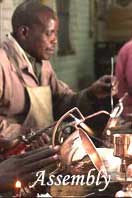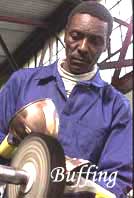 Africa Impulse Marketing are wholesale distributors and agents for the full range of Windsor Silverware, Royal African Silverware, 29 30 Lighting and Gastone copper art products. In addition we are agents for White Rose Sheffield cutlery, and hand knitted Gogo Olive soft friends.
Hollowware & Curios
This unique range of table, presentation and giftware is hand manufactured in Southern Africa, to the highest international quality standards. Drawing on over 50 years of experience the team of skilled craftsmen take pride in producing quality hollowware, synonymous with the well-known and respected flagship brands of Windsor Silverware, Royal African Silverware and Royal Sable Copperware.
The comprehensive range includes traditional, contemporary and African styles incorporating exciting materials such as the richness of African Teak, Ostrich Hide & imitation Elephant hide, adding to the lustre of silver and copper.
Quality Guaranteed – Windsor silver plating is a minimum thickness of 26 microns, which is ideal for engraving. All products in the range are guaranteed against manufacturing defects for 20 years (subject to usage conditions). Look out for our hallmark which is your guarantee of quality.
Gastone Copper Art
At Gastone, copper, the oldest metal known to man, is proudly hand crafted by Southern African craftsmen.
The original designs are evolved in Gastone's own studios. Each piece of copper artwork is then individually hand painted by gifted artists making each creation unique.
Durable copper is not subject to rust or other deterioration and during manufacture a protective lacquer coating is applied to each item. An occasional wipe with a soft duster is all that is required to maintain the article in pristine condition.
All clocks feature precision German made crystal quartz, battery operated, movements by Steiger. which are guaranteed for three years.
White Rose, Sheffield cutlery
White Rose cutlerytakes its name from the famous emblem of Yorkshire in which the city of Sheffield is situated. This Sheffield factory prides itself in creating quality products for a modern world, while preserving traditional values and practices.
The White Rose range encompasses the finest quality hand-finished cutlery in silverplate & stainless steel plus a range of popular cream handled knives – these are definitely products for more discerning buyers.
The craftsmanship, skills and traditions developed over 800 years are without equal and those standards are still practiced today, and combined with modern technology. Unlike other manufacturers none of our cutlery products are mass-produced, they are all made to order, individually filed and polished by hand, they are quality controlled at each stage of production and finally hand-finished to give that deep and long lasting lustre.
Gogo Olive
Gogo Olive 'friends' are hand knitted by rural women in Zimbabwe which is experiencing huge unemployment. Gogo Olive recognises the sense of purpose and worth that having employment brings as well as the obvious financial benefits.
Being a part of Gogo Olive gives these ladies the opportunity to provide for themselves and their families and to experience the independence that comes with this.